8 February 1787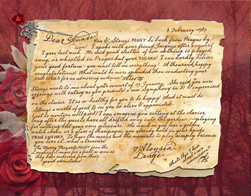 Dear Amadé!
You & Stanzi must be back from Prague by now! I spoke with your friend Jacquin after a concert I gave last week. He said you'd written of how nothing is played, sung, or whistled in Prague but your Figaro! I can hardly believe your good fortune – you must tell me everything ! A thousand happy congratulations! What could be more splendid than conducting your own opera for an admiring audience?
Also,
Stanzi wrote to me about your concert of 19 January. She said you were overcome with extasy as you presented a new Symphony in D & improvised on the clavier. It is so healthy for you to be happy! And it must do Stanzi a world of good to see you so alive & appreciated…
(not to mention well-paid!)
I can imagine you sitting at the clavier, long after the guests have all drifted away into the garden…playing for nothing but your own pleasure. As much as you love a golden watch chain, or a glass of champagne, you already hold in your hands true luxury. To have the means and the moments to play simply because you love it…what a treasure!
The Merry Mozarts must join the Laughing Langes for a feast as soon as they have recovered from their grand adventures!
♥Aloysia Lange.
P.S. What's this I hear about a new commission?!
(Exerpts from Letters to Mozart © 2006 Kristin Serafini.)