Contact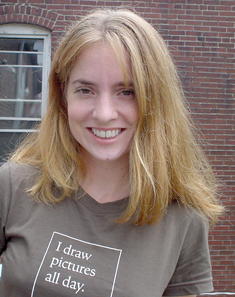 Kristin Serafini
4036 Shenandoah Ave
St. Louis, MO 63110
kristin@xyzant.com
My career as an author & illustrator began with a high school English project when I made A Walk in the Rainforest in 1991 at age 14 for my mom's preschool class. It was published the following year by Dawn Publications. So far, I have written & illustrated 5 published children's books.
In 2004, I began teaching art & writing classes at Arts For The Soul, an arts retreat for adults located in Steamboat Springs, Colorado. This adventure inspired my 6th book, Words With Wings, a 64-page collection of pages from my illustrated journals, and a textbook for my classes. In addition to enriching the lives of the students, AFTS has started a conversation between the arts. Exploring the short life of Mozart, (and the eternal life of his music) as a writer & illustrator, was a new thrill. At first he seemed unreachable – I didn't know alot about music. But I do understand the irresistable desire to make art…
One night, I was hanging out with some friends at a coffee shop here in St. Louis. One guy asked what I was working on, so I explained how I was trying to make Mozart meaningful to other young non-musicians like me. (I used to think of Mozart as old & stuffy, but when he died, he was a young dad trying to make art and support his family at the same time.) So this former college football player looked at me and said: "Dude! He's us!" Yes.
On a grand, flamboyant scale, Mozart struggled with the same big questions that await every artist: Where does my creativity come from? Am I loved? Is my art loved? Does my audience get it? Am I successful? What will happen if I give everything I've got? Mozart's life holds a lesson for all of us:
There's only one way to find out what will happen if you pull out all the stops.
Kristin Serafini