Schumann Symphony No. 1 (Spring) Andante un poco maestoso – Allegro molto vivace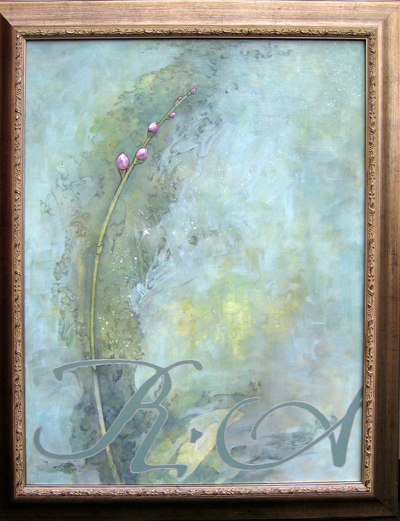 Schumann Symphony No. 1 (Spring)
Andante un poco maestoso – Allegro molto vivace
by Kristin Serafini
acrylic on canvas
24″ x 30″ plus frame
$1200, or $4000 for the complete set of 4
This series developed after a trip to Chicago on 23 & 24 February 2007. Gabriel and I drove up to visit our violinist friend Dima, who was there auditioning for grad school. Friday night, he took us to the symphony, where the Gewandhaus Orchestra of Leipzig (Riccardo Chailly, conductor) performed Schumann's Symphony No. 1 (Spring) and Mahler's Symphony No. 5. I was moved by both pieces. But not in the way most people mean when they say they were moved by gorgeous music or art. It wasn't so much emotional as visual.
I guess some people would call it 'active listening'. I don't always do this when I go to concerts, but this time I sat down and cleared everything else out of my head, so I almost felt like a blank canvas on the inside. My mind didn't wander onto other topics during the concert. Instead, the music seemed to turn into colors when it went inside my ears. It's not like I was consciously making stuff up either. I just sort of observed how the music looked.
As I listened to the symphony, I didn't know it was subtitled 'Spring'. Even so, the initial impressions I got were of very low contrast, light, soft colors. When I got home from Chicago, I bought the symphony on iTunes. I listened to each of the four movements several times on my iPod as I interpreted it on canvas.
The opening horns of this first movement made me think of some kind of sprout victoriously pushing up out of the ground. I used a phalaenopsis orchid because I happened to have a couple blooming in my collection when I was working on this series. You should know that violins and violas, the lighter strings, often sound like apple green to me. They also sound like lines as opposed to broad washes of color. That's what inspired the curling pencil work that surrounds the sprouting orchid.
Since I just recently started painting music, I haven't figured out yet if it's the notes that the instruments are playing that remind me of certain colors, or if it's the specific sound of the instrument itself. Clearly I will have to do more experiments to understand how this works.
Schumann Symphony No. 1 (Spring)