Don Giovanni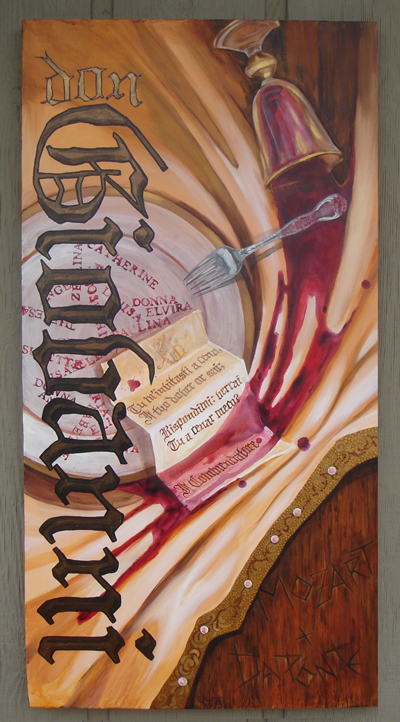 Don Giovanni
by Kristin Serafini
acrylic on gallery canvas
24″ x 48″
$1200 SOLD
This might be my favorite of the big canvases. I reached back to my Drawing III days in college, to tell a pretty violent story with everyday objects. (Our professor taught us about putting "content" in our art by making us draw the most boring chair possible in a way that conveyed a meaning or emotion.) And now everyone knows what my fancy dinnerware looks like. I just went down into our own china cabinet for props.
In this painting, I wanted to show the moment right after Don Giovanni is asked to dine with Il Commendatore. It was literally the dinner invitation from hell. This is the moment when Don Giovanni knows his game is up. On his plate, I stamped the names of some of the delicious women he's had for breakfast. In blood red, of course. I placed the fork in a position that would indicate to a waiter that the customer is finished with his meal. The words on the invitation are in Italian – straight from the libretto. (Yes, I did use a font – my gothic writing just isn't that good. The font is called "Black Night", and can be found on fontdiner.com – in the free silverware section.)
But really the spilled wine glass on the white table cloth says it all. I love the versatility of acrylics. Getting the light on the glass right, and floating the translucent pools of wine into the paper invitation and around the opaque folds of the cloth was an exciting experiment. I didn't quite know what the paint would do. I was thrilled when such a magnificent splatter landed in the top left corner of the invitation. I pretty much had one shot at that. Drips are impossible to control, so you just have to hope you got the right amount of water and pigment on your brush before you fling it at your canvas. Scary but fun. Just like Don Giovanni.
-Kristin Serafini
P.S. I also discovered that painting wood grain with a very tiny brush is excellent stress therapy. Very meditative…