Closer to the Composer III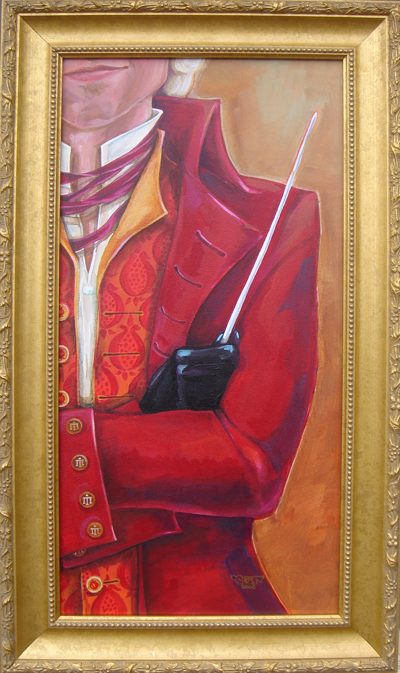 Closer to the Composer III
by Kristin Serafini
acrylic on canvas
10″ x 20″ plus frame
$800
This was actually the first one I did in the "Closer to the Composer" series. You can probably tell – it's much less detailed than the other two.
The colors in this series of portraits relate to the colors of the 3 acts in the book. (Act I is blue, Act II is red, and Act III is black.) This painting relates a little bit to the first opera Mozart did with Da Ponte: Le nozze di Figaro.
The original title for this piece, before I knew it would turn into a series, was "The Smug Conductor". He appears to be extremely pleased with himself for setting such a scandalous play to music. I swapped out the traditional lace cravat and replaced it with an untied ribbon – perhaps the same one that Cherubino snatched from Contessa Rosina?
Yes, I am aware that the traditional white baton used by most conductors today didn't come into fashion until Felix Mendelssohn's time (1809-1847), about a generation after Mozart. Blah blah blah. The fact is that I liked the strong lines it brought to the composition too much to care about the anachronism.
I would love to do a few more in this series, but I have some urgent deadlines coming up so Mozart will have to wait a little while…
-Kristin Serafini
P.S. Why is Mozart wearing black leather gloves?
Several people have asked me that. Two reasons. The first is that I really liked the contrast between the white baton and the black gloves, and the second is that I received a pair of black Armani Exchange gloves (just like the pair in the paintings) as a Christmas gift a couple of years ago from the fellow who was supposed to play Mozart in the first production of Letters to Mozart.