Closer to the Composer II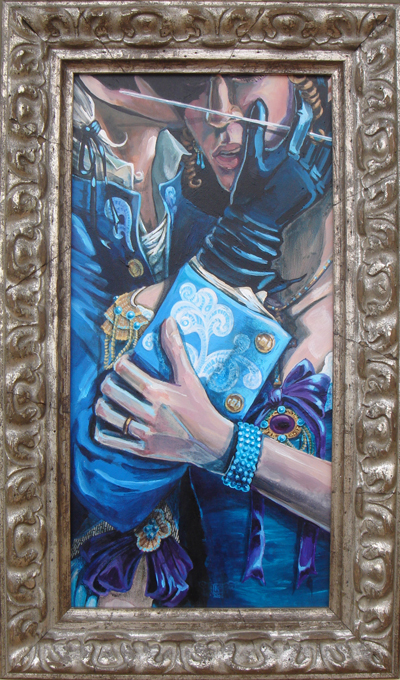 Closer to the Composer II
by Kristin Serafini
acrylic on canvas
10″ x 20″ plus frame
$800 SOLD
Of course, I couldn't do a series of paintings about Mozart's moods without including a woman…
Closer to the Composer II was actually the 3rd painting I did in the series, but it's about Die Entführung aus dem Serail, which appears 2nd in the lineup. This opera was premiered 3 weeks before Mozart married Konstanze Weber. Konstanze is also the name of this opera's heroine. (Although the real Konstanze did not sing the part named after her – her sister Aloysia did…)
I decided to reveal an intimate backstage moment between Mozart and his fiancée Konstanze Weber, that perhaps the rest of the opera-going audience shouldn't have seen – or didn't bother to notice. Konstanze's heroic aria "Martern aller Arten" was the inspiration for the look on her face and the strong grip of her hand on his sleeve in this painting. She loves Mozart, but at what cost? And I am very curious to know – what is he telling her?
I also referenced Serail in the couple's clothing. You might notice the Oriental/Turkish flavor of Konstanze's gown (in the opera, she is imprisioned in a Turkish harem) or the little ships on Mozart's gold buttons. (Konstanze's lover, Belmonte, sails from Spain to Turkey to rescue her.)
The harsh theatre lighting pushed me way out of my comfort zone, but I didn't want this to be a cozy painting about pleasant flirtation. Very little of Konstanze Weber Mozart's life turned out that way. And there's another little detail I just noticed: See how Mozart's right arm obscures the ornate cross hanging around her neck? After his death, Mozart practically became Konstanze's religion. She outlived him by 50 years, and made sure everyone in Europe knew his name.
-Kristin Serafini